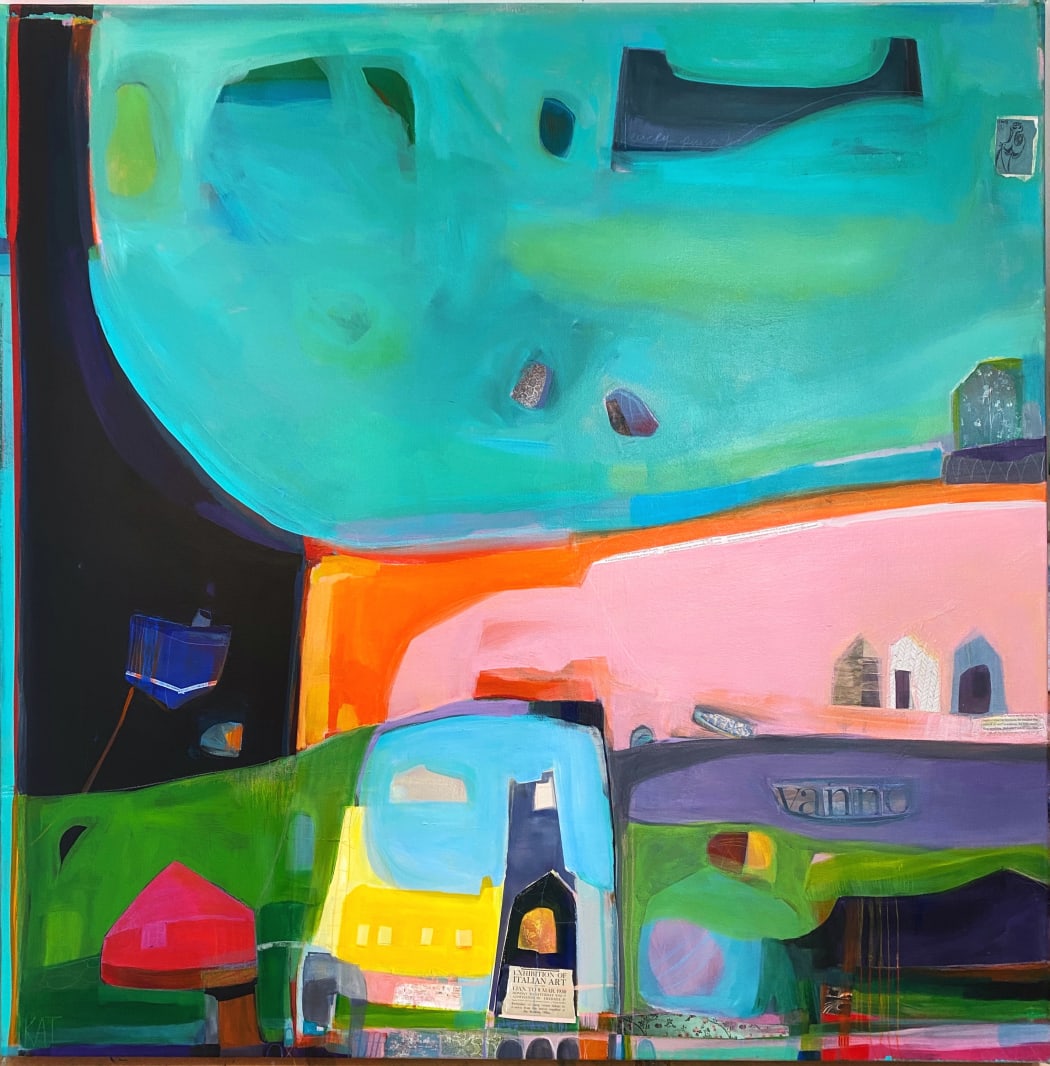 Kate Trafeli is a very unique person. You feel it the minute you meet her; she is a thinker, a feeler, a sentimentalist, and a dreamer. Her connections to places and people are intensely significant — family, friends and a sense of place are embedded in her being. These bonds, together with memories and reveries on life's moments, are expressed by Kate in concentrated colour and flowing shapes that are both emotive and universally relatable.
That's why art collectors love her work. She is the abstract artist whose paintings are admired even by those who claim aversion to abstraction. In art terms, Kate's work can be described as 'lyrical abstraction', a sub-genre of 'Art Informel' — the lavish French phrase for the improvisation, gestural application, and illusionist space that flooded the 1940s and '50s. Lyrical abstraction involves letting go, or embracing your unconscious. Kate is unquestionably no stranger to this: the intuition, illusion, imagery, and expression in her paintings signal an artist completely surrendering to their emotion.
Many of Kate's collectors are unsurprised to learn that Kate experiences the phenomenon known as 'synaesthesia' (once they understand the term!). A fancy name for when you experience one of your senses through another, 'synesthetes' can experience music as a shape, or a name or place as a colour. Kate literally sees the world in varying silhouettes and hues, and translates them into her work, charging everything she creates with a dream-like quality.
Kate is an American who grew up in the Western part of the United States and, after living in Italy for ten years, settled in the UK. The shapes and palettes from each of these chapters of her life are distinctly seen in bodies of work. Big bright sunsets from the open prairie lands of America; sienna hues and burnt oranges from delicate Tuscan skies, and stormy seascapes from the unpredictable English coast.
It's the UK's south coast that has inspired Kate's current exhibition 'The Shape of Things' — a title cribbed from the song of the same name by the Yardbirds. This body of work harks from a recent post-lockdown trip with her family across Devon and Cornwall. Shapes clearly evoke both the natural and manmade elements found along those seaside towns: rocks, cliffs, boats, piers and lighthouses. As one would expect, the opulent blue and green colour palette is worthy of diving into, while pinks and yellows punctuate the canvases. A seaside
revelry.
Dreams, much like the sea, link us together. The connections between us are fundamental and immeasurable, and translated by Kate Trafeli with unique skill in glorious technicolour.
'The Shape of Things' will be on view at J/M Gallery in Notting Hill from 14-20 September, and all works are available through After Nyne Contemporary. Appointments for viewings can be made by contacting the gallery on +44 (0) 7979 646189, or emailing gallery@afternyne.com.